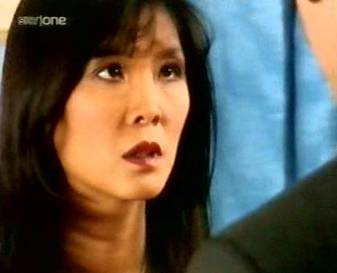 Kitty Wyatt (Choy-Ling Man)
2000-2001
First Regular Appearance: 4.1 (#203) Sunday 1st October 2000
Last Regular Appearance: 4.25 (#227) Sunday 8th April 2001
Duration: EP: 203 - 227 ½ SE: 4.1 – 4.25
Position: Farmer / Wife of Ray Wyatt / Mother to son William
Last Seen: Leaving for Devon before the season's last game, giving Ray another chance having learnt about he and Lynda.
Wanting to provide for her poor family in Thailand, Kitty heard how women working as escorts could earn vast amounts of money from the right clients, and attempted to find a way into this world. Unfortunately for her, Kitty became trapped in prostitution under the control of a pimp who would assault her and the other girls if they didn't bring enough back. Her first encounter with the man who by all accounts saved her, Ray Wyatt, was when he witnessed a desperate Kitty being ejected from his team's hotel by security. The next time he would see Kitty, she was bruised from another encounter with her pimp, and Ray takes pity on her, not wanting to see any woman hurt in this way. Ray gives Kitty the money to escape prostitution and return to her family, who had no idea what was happening to her. She is so grateful Ray visits her, and they fall in love. When Ray takes a coaching job at Liverpool F.C, moving back closer to home, he takes Kitty with him and the two are married before leaving Thailand.

After a couple of years in Liverpool, Ray decides to leave coaching and football, and he and Kitty set up home on their own farm in Devon, where in 1999 Kitty becomes pregnant with their child. It is at this time that Ray's good friend from his time at Monaco, Luis Amor Rodriguez visits them with an offer of a coaching position at Harchester United. Ray at first turns Luis down about a return to football, not wanting to leave Kitty alone with the farm as her pregnancy goes on, but it is Kitty herself who convinces Ray it could be a good move for him career-wise. Ray takes the job and is regularly travelling up and down from Harchester to Devon to see Kitty, back for the birth of their son William in mid-season. There is trouble for them both when a story of Kitty's past in Thailand is sold to the papers, and a furious Ray discovers it is temporary manager Gordon Gallagher. Ray takes over as manager, which damages his friendship with Luis, but impressively takes the team to the quarter finals of the UEFA Cup.

With Ray in the manager's seat, Kitty joins him in Harchester with William, setting up home at the Barrons. She becomes good friends with the other Harchester wives, notably Tash Parker and Lizzie Conlon. When the club holds a charity show "Harchester Uncovered", Kitty is a support to Lizzie when she decides not to go out on stage, worried herself about her image. But Kitty receives a rapturous applause when she takes to the stage herself. Just before Christmas, Kitty learns her father is seriously ill in Thailand, and to Ray's anguish, she takes William away for an undetermined amount of time. With Ray without his family, and Lynda lonely after Luis married his childhood girlfriend, the two have a brief affair beginning on a trip to Paris to approach Monday Bandele on signing for the Dragons. Kitty returns unexpectedly, and surprises Ray, joking "I hope you have hidden your secret lover away!".

Having discovered Lynda is pregnant from their affair, Ray guiltily tells Kitty everything, and feeling betrayed, she takes William and walks out on him. Ray is determined to get his family back, even though Lynda is keeping his baby, and Kitty tells him they only have a chance if he leaves Harchester and is away from Lynda. She presents Ray with the ultimatum that unless he chooses her and William, they are both going back to Thailand, which causes Ray to take his son and hide in the dressing room. When Lynda suffers a miscarriage, Kitty shows her love rival compassion, assuring Lynda she never wanted to see this happen. Ray realises the only way to stop everyone's pain is to leave with Kitty and never see Lynda again. Kitty persuades Ray he needs to stay for the final game of the season, the boys needing his guidance for this last crucial game, and she leaves before him, with Ray later taking the manager's job at Bordeaux.

Kitty was also played, on a recurring basis, by Akomi Otani during Season 3.