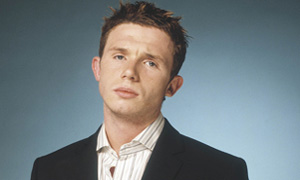 Lee Presley (James Watts)
2003-2005
First Regular Appearance: 7.8 (#300) Catch Me If You Can Sunday 16th November 2003
Last Regular Appearance: 8.32 (#356) Play Off Sunday 29th May 2005
Duration: EP: 300 - 356 ½ SE: 7.8 – 8.32
Squad Number/Position: #18 (Striker) (2004-2005)
Last Seen: As part of the squad that wins promotion back to the Premiership. Killed in the Millennium Stadium explosion.
Lee didn't get off to the best start in life. Born in March 1986, his father had abandoned Tina Presley upon learning of her pregnancy and Lee never came face to face with him. Left to raise her son alone at a young age with no support took its toll on Tina, and she became a drug user, associating with some dodgy characters and bringing into Lee's early life an influence that would have a long-standing affect. Trouble seemed to follow Lee around, or he couldn't stay away from it, and he carried around a tragic secret he wouldn't let anyone know of. From being disruptive at school to fighting with both classmates and teachers, Lee was expelled more than once, and the point came where he wasn't attending school at all and became a forgotten child in the system. Although she loved her son, and they only had each other, Tina Presley was always stoned, so with nobody looking out for him, Lee's criminal life began to take hold. But simply being someone who was rebelling and not truly bad-to-the-bone meant he always got caught. All by the age of seventeen he had acquired convictions for shoplifting, theft, twelve counts of burglary and what would land him in a young offenders institute in the Midlands, aggravated T.D.A.
As part of his rehabilitation, the officers in the centre encouraged Lee to join the football team the boys had set up. It was a major step forward, for whenever Lee could play football it would keep his mind focused, and without him even knowing it, he'd already built up an impressive talent having had enough spare time to nurture his skill. Out on a Sunday to play, Lee is spotted by former agent Jeff Stein who is coaching an under eleven's team. Jeff gets Matt Webster to follow Lee's bus and they discover he is in a young offenders. When Jeff gets permission to go in and speak to the lads about his experiences in the game, he approaches Lee who has no trust in anyone trying to help him. When Jeff sells to Lee how he believes he has the potential of playing Premier League football, Lee agrees to take Jeff's offer. In order for Jeff to become Lee's guardian, he must convince Lee's social worker that he is engaged to Nikki and they have a house where Lee could live (which is actually Matt's house). Lee lets Jeff down however when attending his first ever football match at the Lair, by stealing from Matt's house. Catching up with Lee using his credit card to stay at The Grange, Jeff finds him in the midst of robbing Clyde and takes him back on a second chance, which Lee appreciates not having had many in his life.
Upon seeing Lee, Stuart agreed with Jeff that there was a real talent in him, and agrees to allow Lee to train with the team until he is old enough to sign a pro contract in a few months. Jeff's main priority is to keep Lee under wraps from other agents who will want to snap him up for other, more lucrative clubs than Harchester currently is. This is dealt a blow when Stuart plans to start Lee in a game where several first teamers are out, and Lee scores, leading to Jeff's rival Joel Brooks approaching him. It is when Joel puts Lee under pressure to do a mobile phone advert that Nikki discovers Lee's secret, that he can't read, and offers to teach him. Jeff discovers that Joel is abusing his power over Lee's deals, so exposes him to show Lee how Joel doesn't play by the rules when it comes to what's best for his clients.
When Lee's eighteenth birthday arrives, it brings with it an unpleasant reminder of his past when John Wilson, a loan shark from home threatens Lee that he must pay what Tina owes due to her drug addiction debts. When John and his associate force Lee away from Jeff and into a deal with Chelsea where they will get more money, Jeff tries to warn them off, resulting in him being beaten up. Nikki comes up with the solution of getting Tina away from Liverpool, so the thugs won't be able to find her and loosen their grip on Lee. With Lee consumed with guilt over Luke Davenport taking his place on the pitch and subsequently losing his career, Luke comes to Lee's aid by making a plea on television that Chelsea let Lee stay at Harchester. Lee signs his first professional contract and is in the team as Harchester qualify for the Champions League.
The club was relegated to the First Division following an inquiry into match fixing, and Jeff and Nikki want to take Lee to a bigger club where they feel he belongs. At the same time, Lee and Nikki act upon their feelings and become a secret couple, only rumbled by Viv who walks in on them early in the morning. Lee is shocked when Jeff confides that he himself is in love with Nikki and thinks she feels the same, only Nikki is just as shocked when Lee tells her. A squabble with Viv sees Lee and Nikki's secret revealed to the team before they can inform Jeff themselves, and he is hurt and embarrassed when he learns it from the team. Lee knows he wants to stay at Harchester but would be holding Jeff and Nikki back if he did so, so presents them with cheques for the money they would have received if they'd completed a move to Barcelona with him, and says goodbye to his two "guardians".
With the return of Karl Fletcher to the club, a young boy called Byron claims Fletch is his father, and his mother Shanice comes on the scene. Lee and Shanice get along well, but Fletch's presence jeopardises this because he is a bad influence on Lee. Viv decides it is his duty to take over from Jeff and keep his eye on Lee, making him move in with him at Studs, while doing his bit to get Lee and Shanice back on track. Lee develops a bond with Viv and is protective in return, wanting to sort Ryan out over his affair with Chelsea Wright. But Lee becomes worried about his friend when he finds Viv talking to his absent wife as if she is there in the room with them. When Lee tells the club, Viv's psychologist Naomi says Viv will need time out. But with a weakened team, Don Barker knows he needs Viv and brings him back to play - resulting in Lee being assaulted by an unstable Viv. Lee comes to forgive Viv and moves back in with him when he is put on medication for his personality disorder.
Viv's shotgun comes back to haunt Lee however when in Curtis' possession, it accidentally goes off and hits Lee in the leg. There is no long-term damage though and Lee is fit to play in the Championship Play Off final against West Ham in Cardiff. Harchester reclaim their Premier League stance thanks to Lee's goal in a 1-0 game, and the lads look forward to returning to the club as Premiership players once more. Ousted manager Don Barker has other ideas though, and having been found with Fletch's body in his car boot decides he won't be going to prison, and drives straight into the Harchester team coach causing a massive explosion. Although Lee is taken from the wreckage alive, he succumbs to his injuries in a Cardiff hospital with Sully, Ryan, Tyson and Lynda in shock outside his room.