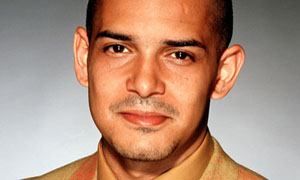 Leon Richards (Nathan Constance)
1998-1999
First Regular Appearance: 2.1 (#65) Tuesday 1st September 1998
Last Regular Appearance: 3.4 (#144) Thursday 30th September 1999
Duration: EP: 65 - 144 ½ SE: 2.1 – 3.4
Squad Number/Position: (#34) Centre Defence (1999) / Youth Team (1998-1999)
Last Seen: Giving Julie an airport proposal before boarding Biloo's doomed private plane back from Holland.
Leon had to grow up a lot quicker than any of his mates around him. From a poor background in North London, Leon's mother worked hard to ensure her only son had the best life he could, and Leon showed remarkable talent when playing football in centre defence as part of the Arsenal academy, before making it into the club's youth team. During this time, Leon's girlfriend Clare fell pregnant and although the two did not stay together, Leon had regular access to his son Clayton, determined to be there for him unlike his own father had been for him. This new responsibility led to Leon taking on an extra job at nights in order to provide more, but it had a bad effect on his form at Arsenal, tiredness affecting his ability and skill. After a year with the Gunners youth team Leon was let go, which was crushing as Arsenal were his team his whole life. Still only eighteen, Leon thought his dreams of being a professional footballer were over, but an unexpected call from Premier League side Harchester United saw Leon head to the Midlands youth team.

Arriving at the team's youth hostel, Leon was placed with the room mate who would ultimately become his sidekick, Liverpudlian Billy O'Neill. Although their friendship was rocky at times. Billy roped Leon into breaking their curfew on the very first night, and going clubbing at Harchester team hotspot Studs. When youth team manager Frank Patcham appears, the boys run off in separate directions, Billy into a toilet cubicle where moments later club chairman Jerry Block drops a £50,000 package in to him, mistaking "Billy-boy" for agent Biloo Kapur. Leon knew it was bad news when Billy wants to keep the money, and thought the owner was coming for them but it was the unexpected arrival of Clare, wanting to know why she hadn't been receiving money from Leon. Having not had enough to pay her for Clayton, Leon reluctantly took some of the bribe money, leading to Billy getting jealous and heading off to London on a spending spree! When Frank fines Leon for covering for Billy, Leon decks his mate and is handed a suspension for violent conduct.

Leon's form was back to it's best, however when it was learnt that there was only one place in the first team for the position he and Alex Wilkinson shared, Alex took their rivalry to a whole new level. With Jerry Block's henchman Fraser on to he and Billy and intimidating Clare and Clayton, Leon is hospitalised, which delights Alex until he hears Leon won't be out for too long. Alex gets his chance to spike Leon's drink, which shows up when Leon has a check up. Leon just couldn't work out what had happened, and found a friend in Julie Alexander as the two spent more time together. Leon started to have his suspicions that Alex could have been behind the drugs found in his system, especially with how Alex has benefited with his place in the team. Alex gets more menacing to warn Leon off, by getting involved with Clare, who is now working alongside Julie in the canteen.

Alex knows the most important thing to Leon is his son, so with him hanging around Clare, Leon has Alex's presence to fear. With Alex threatening Clayton's safety to keep Leon quiet, Leon tells Clare but she thinks he is being jealous of her new relationship. With the FA Cup Final approaching, Leon disappears with Clayton, leaving Clare frantic with worry. With Julie and Billy on his side, Billy decides it's time Alex's mother Denise knew what her son had been doing to Leon. A guilt-ridden Denise tells Frank which results in Luis dropping Alex and replacing him in the final with Leon. His place in the game where Harchester lift the Cup secures Leon his professional contract with the first team.

Leon and Billy begin their first season as Harchester United first teamers, at what seems a pretty exciting time for the club. In the early rounds of the UEFA Cup, the team are drawn against Ajax, and travel to Amsterdam where they are proud to achieve a 2-2 draw. Julie had travelled over on Biloo's private jet, and Leon surprised her with an engagement ring at the airport as they awaited their flight home. Julie accepted and when the team's official club transport was delayed until early the next morning, Leon and Julie, along with a few other first team players, accepted Biloo's offer of a flight home on his plane. The rest of the team arrive home to the news that the plane is missing, and all those on board are feared dead. When no news emerges, the club holds a memorial, where Clare tells a distraught Billy that she is having Clayton christened and in memory of Leon, wants him to be Godfather.