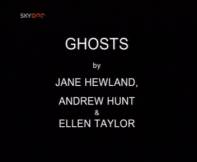 Season 7 Episode 29
Episode 321
Sky One Transmission Date:
Sunday 25th April 2004
Directed By
Unknown
GS: Tom [Drama Jamie] (Marc Bannerman) Georgina (Rachel Buckley) Martin Thorne [Director] (Owen Oakeshott) Andy Gray (as himself)
As the one year anniversary of the siege and Jamie's death approaches, Tash oversees a film crew shooting a documentary about the day. Like last year, the team are also due to play Everton in the coming days. Abi watches uncomfortably as the scene of her shooting is acted out for film. Things get worse for her when she is roped into giving an interview alongside Stuart, and is asked questions about the gunshot leaving her infertile and the break-up of her marriage. Stuart orders the film crew out, all except Tash who unbeknownst to them is behind listening in the toilets.
Tash hears Abi call Stuart a liar, marriage wrecker and cheat, and becomes convinced the same thing that happened with Jamie and Patrick is now happening with Stuart and Viv. That night Marcel unexpectedly brings Georgina to dinner at Abi's, and at the end of the night Abi breaks down over the day's events – culminating with her telling Marcel how much she needs him. Marcel is confused, as Abi has always insisted she does not share the same feelings as him. Jeff is interviewed for the documentary, in which he describes the siege as the worst night of his life – wondering how he would tell Tash that her husband had shot her best friend and taken his team mates hostage.
Now knowing Abi's true feelings, but not wanting to spoil what he has with Georgina, Marcel comes on too strong with her, and Georgina reveals she knows she isn't the one Marcel wants - kindly wishing him well with Abi. Tash takes her suspicions to Viv, telling him he doesn't have to end up like Jamie. Viv is outraged she'd imply he would cheat, and when Abi is unable to back up Tash with the argument she had with Stuart, she runs out upset and straight into the filming of Jamie's shooting. Tash freaks out, thinking what is in front of her is happening for real, and cries out for Jamie. As the team play the all-important match determined to make it back up to fourth place, Abi accompanies Tash to Jamie's grave.
Tash cries over how she felt if she never visited Jamie's grave she could always pretend he wasn't dead, and how she misses him so much. When Tash tells of how scared she is of going mad over the match-fixing accusations, Abi can no longer keep quiet and admits she was right. Tash, now more than ever determined to reveal all, believes she can stop last year's events repeating themselves. She gets to the club as the team are coming in for half time, and stops Viv. Tash begs him to believe her, saying Abi can back her up this time, and swears on Hope's life that it's true. This is enough to get Viv to listen, and he enters the dressing room locking the door behind him. Viv openly demands Stuart tell of the match-fixing - and eerily like Jamie adds nobody will go anywhere until he gets some answers!
Notes:
Best Known For:

Marc Bannerman would be best known for his regular role as Gianni di Marco in "EastEnders" from 1998-2000, followed by Greg Thompson in "Time Gentleman Please" (2000-2002) and Matt Bryant in "Footballers Wive$: Extra Time" (2005-2006). He is also the former partner of Sarah Matravers (Victoria Baptiste, DT Seasons 3-5).
The Best: Viv's reaction to being "Jamie Parker-questioned" by Tom.
Continuity:

More than just match fixing repeating itself one-year later at the Dragon's Lair: Clyde's eerie goal leaving things Harchester 1-0 Everton, again. Also Tash hiding in the toilets to eavesdrop on events in the dressing room, as Clyde did during Jamie's siege.
Additional Info: Jeff giving Tash Smints to help her sleep. Jamie's grave reads his birthday as 16th September 1976.
What Was The Score?:

After Newcastle's defeat against Leeds, Harchester go in for Everton with a good shot. At the episode's close, Harchester are leading 1-0 up at half time.
Soundtrack: Chemical Brothers: "Out of Control", DJ Tiesto: "Magik Journey", Green Onions: "Booker T & The MG's", Lux: "One Hundred Billion Stars", Sigur Ros: "Track 1 / '1'."
Screencaps from Season 7 repeat broadcast on Sky One in summer 2005.
*If anyone knows who the director was for this episode, please let me know - info@dtdiehard.net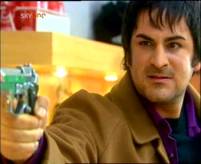 It's a fake!