Viv tells the team they are going to win promotion this afternoon as Ryan squirms down in his seat at the situation of being trapped with Viv. Inside Gina is still phoning for Ryan when she gets a call from the police in Harchester, about Fletch not reporting that morning. Gina tells Dean she thinks something has happened to Fletch other than him doing a runner. As they sit and wait for the AA, Jodie tells her dad she doesn't believe he meant to kill anyone, but she can't sit by and leave Fletch where he is. The AA man arrives and Don has yet another close shave when he has to open the boot to collect the generic walnut key. The coach arrives in the sheltered VIP car park of the Millennium Stadium, and as the team head off one by one Ryan plans to make his getaway through the emergency exit door at the back. Curtis tries to get Ryan to stay and play for the team but Ryan is more concerned about Viv killing him. Don and Jodie arrive at the same car park and the West Ham representative berates Don for being late before dragging him away from the car. As Viv speaks with the team alongside the coach, Ryan climbs out of the back and dashes over to Barker's vacated car. Viv spots Ryan and yells after him, as Ryan jumps into the Fletch car and speeds off. The team are in for it now and they know it! Viv marches them into their dressing room and yells that Ryan is coward for blaming his dead best mate for screwing Chelsea behind his back, and how much he has hated Clyde when the poor kid took his own life. He then turns on the team for hiding Ryan on the coach and asks the team why he should stay when they treat him like this. Lee answers because they have a football match to win. Ryan meanwhile has driven back to the hotel and bursts into Savannah's room. He tells her Viv is after him over the Chelsea affair and suddenly receives a call from Viv. Viv tells Ryan that whilst he wants him dead, the team cannot lose today for they have all worked too hard, and he needs Ryan to play. Afterwards they will sit down and talk about this without any violence but for now all he needs him to do is play, and Ryan reluctantly agrees to come back. Don meanwhile is still attempting to get back to the car but the West Ham representatives hold him back.
Ryan is stuck behind a line of cars waiting for entry to the car park, and fearing he will miss kick off skips the queue and drives into the VIP area. The police follow and stop Ryan which delays him even longer, with even Savannah thinking Ryan is above the law. The game is being held up as Viv waits for Ryan, and referee Jeff Winter (guest star!) tells him they either go out now or the game goes to the other team. Viv tells Scott to substitute Ryan for O.B, and he turns to Lee and says whether Ryan shows up or not now, he isn't playing. A detective questions Ryan as the two policemen examine the car. They open the boot and find Fletch's body, immediately arresting Ryan on suspicion of murder. The policeman holding Ryan tells the detective that it's Karl Fletcher and Ryan and Savannah are both shocked. As the two teams prepare to leave the tunnel, Viv and Don come face to face showdown style. The teams take to the pitch and line up for the pre-match presentations, and some bloke sings 'God Save The Queen'. As the game kicks off Don overhears Dean asking Gina whether she's heard anything from Fletch yet. She says she hasn't and Dean suggests that he must be in the crowd somewhere after sneaking in with the fans. Don scuttles away to find the car's whereabouts and is shocked to find it not in its allocated space. During the first half Alex O'Brien makes a couple of good shots but misses, but O.B comes through and a pass to Lee makes it 1-0 to Harchester's delight. Don, now suffering chest pains from the stress of his missing car/body, berates two young stewards until he collapses in pain to the ground. Ryan is questioned by the detective and desperately protests he had nothing to do with Fletch's death. The police come out to speak to the West Ham rep and as Jodie watches she begins to worry about her father. The half time whistle blows and as the players enter the dressing room the detective asks for a moment with Viv. He quietly explains how they've found the body of one of his players, and Gina has a look about her of just knowing that it's Karl. Viv clearly wants it to be Ryan but the detective confirms it is indeed Fletch. Gina is devastated and collapses in Viv's arms. He has to call Scott out to take her somewhere quiet as she howls that it can't be true.
The West Ham rep speaks with the police as their team co-ordinator comes along with the vehicle records. There, they see that the car Fletch's body was found in belongs to Don Barker. In the dressing room, Viv is clearly emotional about Fletch's death but chooses not to tell the team. Instead he gives them the half time team-talk of his career. Into the second half, and with just ten minutes left Matthew Etherington scores, but luckily the off-side flag is against him. In the dressing room Gina is bawling loudly as Dean comes in and says he's just heard. Gina weeps that all she wants to do is see Fletch. Dean stops her and tells her it's a crime scene, and Gina sobs that they were getting married as Dean holds her. On the pitch Bobby Zamora scores for West Ham but Harchester's lives are saved at the last minute when it too is ruled off-side. The final whistle blows and Harchester are back in the Premiership! The team celebrate as they receive their medals and Curtis lifts the trophy to the rapture of the Harchester crowd. The lads continue by spraying champagne all around. After the on-pitch show, Jodie is told the police want to speak with her. In the physio room Dean tells Gina he is just going to see lads and leaves her. In the next bay unbeknownst to her, Barker realises he has to make a dash for it and gets up and out the door. As the lads cheer in the tunnel Dean comes and asks the boys not to shut him out as he will do anything to make it up to them, if they just let him. The team (minus Sully, Tyson, Ryan and Viv) head out and climb aboard the coach to their fate (with the unneccessary inclusion of Dean). Next to the coach Jodie is horrified at the thought of Fletch being in the car all the way to the stadium. Don makes his way out into the VIP car park, carefully trying to get away unseen. Jodie sees him however and calls for her dad. Knowing the game is up, Barker mouths to Jodie that he is sorry and sprints to the Fletch car barricading himself in before the police can apprehend him. He faces the coach filled with his former team celebrating their win, and pushes his foot down on the accelerator, taking one last look at Jodie as he speeds past her and head on into the coach. The impact causes a massive fireball to engulf the coach and all inside, with burning debris scattered all around, and everyone's fate left in the balance.
Notes:
Here we go then… Last appearances of regular characters Curtis Alexander (Chucky Venice), Dean Boyle (Michael Ryan), Lee Presley (James Watts), Frank Stone (Colin Parry) and Carl Caskey (Stephen Rahman Hughes). Last appearances of recurring team players Alex Lawlor, Mark

"Ammo" Hammond (

Mark

Hammond), Alex "O.B" O'Brien, Charlie Taylor (Ryan Lee), Wes Caine (Wes Cain), Shaun Piper (Tony Piper) and (coach) Scott De Mercado. They, including Don Barker (Jon Morrison) all die in the fireball coach explosion.
Also last appearances of regular characters who leave off screen during the summer: Gina Moliano (Kara Tointon), Jodie Stone (Lucinda Rhodes-Flaherty), Nicole Caskey (Cassandra Bell) and Savannah Caskey (Hannah Tointon). Kara Tointon leaves for the regular role of Dawn Swann in "EastEnders", making her first appearance in September 2005 and remaining there for four years. The Caskey's were always just intended for the episodes they were in, although considering where Ryan goes in Season 9, they really could have done with keeping Savannah on.
Last appearance too for Vivian "Jaws" Wright (Philip Brodie). Philip Brodie decided to leave, believing Jaws had reached his resolution, which looking at it was true - the one thing left was revenge on Ryan, which Philip believed would have happened one day anyway even off-screen. An on-screen, official departure would be have nice, but I feel his half-time speech could be considered a final bow for the character.
Best Known For: Russell Floyd had regular roles on "EastEnders" (Michael Rose) from 1996-1999, and "The Bill" (Ken Drummond) from 2002-2005. Colin Wells too spent his time in the soaps, with roles in "Crossroads (II)" as Jake Booth (2001-2002), and playing Johnno Dean in "Hollyoaks" from 2003-2005.
The Best:

The whole episode plus part one (355: The Day Before Tomorrow). And the fact we got a special effect!
Quotes: Lee: "I mean can you remember the last time Ryan's missed breakfast?" Sully: "Well maybe he read what you did to us and it turned his stomach!". Viv (to Don): "When the final whistle goes, run!". Kevin Keatings: "Nobody sang the national anthem with more pride than Danny Sullivan" (vomits, considering what he does later). In full, Viv's half time speech. You can almost tell that this is Philip Brodie's final glory as Viv: "This is only a game of football. We win it, we lose it, so what? People who think that are blaspheming. This game means everything to each and every one of us. We'd do anything, we'd give anything to be out on that pitch playing. And we dread the day that it is snatched away from us. So we stock up on all our glories, keep 'em treasured, right here [points to mind] in the hope that one day when we're old they'll keep us going. Because they are our lives. If we lose our football we are dead men. You're going to look back on today, it's going to be one of your treasures. 'Cause we are going to hold on no matter what they throw at us and we are gonna win. We don't die today gentlemen. We go out there and we live forever. In the memories of those who took part and those who came to see. Forever. Yeah?". Ammo (to Barker's portrait): "And you can kiss my arse baby!".
Foreshadowing:

Jodie (to Don): "You're not talking and driving dad. You'll kill yourself, or someone else."
Additional Info: This episode takes place on Monday, 30th May 2005, which was a bank-holiday and also the day of the real 2005 Championship Play-Off. The West Ham team co-ordinator is believed to have been played by Stacey Lee, who won a competition held during the season to win a cameo appearance in the show. We were later told how a scene showing Sully and Tyson in the Millennium Stadium Lounge with Kim and the twins was cut due to running overtime, but that would have explained why they weren't near the coach. The other two substitutes for the game are the recently promoted from the youth team [#39] Sean Colton and [#40] Kabi Munoz, who are more victims of the coach blast.
What Was The Score?:

Following two disallowed goals from West Ham, Harchester win 1-0 and are promoted back to the Premiership for the 2005-06 season.
Soundtrack: Dizzy Gillespie: "Menteca", DJ Tiesto & Jan Johnston: "Close To You", The Chemical Brothers: "Come Inside" and "The Boxer."
Behind The Scenes:

In a live web chat given on harchester.net straight after this episode aired, Jane explained the reasons behind the decision to write out almost all of the cast and to start DT afresh for Season 9. The main points of it were mainly how the show needed to be freshened up, characters had hit brick walls, and actors had become bored and wanted to move on. Personally (also the feelings of the majority of viewers), for the "brick wall" characters, while it may have been time for some to go as per usual with DT's end-of-season departures, there were a few which didn't need to:
Lee, who Jane later admitted was a mistake to get rid of.

It was a shame to lose Frank and Jodie Stone (great characters/actors), but with Barker's actions, it was unlikely they would have remained at the club.

First-teamers like Hammond (Ammo) and O'Brien O.B (good recurring team players)

Dean being on the coach which was utterly pointless as he had all but left the club already.

Curtis was probably right (sadly - as Chucky Venn had always delivered throughout his time on the show) as his holier-than-thou attitude since his born-again story had damaged the character.
The overall decisions didn't go down too well with the viewers. Jane H herself later admitted mistakes had been made, but did at least try to amend things by bringing back Fletch for a story-arc towards the end of the series. And Ryan Lee (Charlie Taylor) also reappears in both DT 80's followed by the recurring role of team player Bradley Summers in Season 10 (388: Dragon Till I Die onwards) while also working as the show's Football Consultant during this time.
Screencaps from 8.32's original broadcast on Sky One on 29/05/05.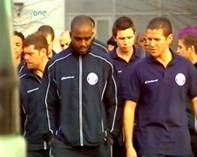 The team prepare for their (current) ultimate game